Herteen & Stocker Jewelers is your family jewelry store.  H&S opened it's doors in 1947. Located in the heart of downtown Iowa City's pedestrian mall, Herteen & Stocker is owned and operated by Willa, Terry, and Tim Dickens. Offering a variety of fine jewelry, watches, and gifts, as well as in-house repairs by our certified gemologists. Come see what makes Herteen & Stocker one of Iowa City's most trusted jewelers.
Awards:
Best of Area Winner- "THE BEST" 2010,2011, 2012 ,2013, 2014, 2015, 2016, 2017, 2018 ,2019, 2020, 2021                                                                   Locals Love Us Winner- "THE BEST"  2017, 2018, 2019, 2020, 2021
Willa Dickens –Owner (70+ years at Herteen & Stocker)
Willa Dickens is the Dickens family's first generation owner of Herteen & Stocker Jewelers.  After graduating from the American Academy of Horology in 1948, Willa began working as a watchmaker for Mr. Bill Herteen and Mr. Walt Stocker in 1949.  Following many dedicated years working alongside Mr. Herteen and Mr. Stocker, Willa was given the opportunity to become co-owner with business partner and long-time employee, Bob Lipsus.  Upon ownership, Willa and Bob chose to retain the Herteen & Stocker name as it had become synonymous with honest business, dedicated customer service and quality product.   Bob retired in 1994, allowing Willa's two sons, Tim and Terry, to become second generation partners together with him.   Willa enjoys the chance to get to know each and every customer that walks through Herteen's glass doors.  By the time he is done working with you, he considers you a friend and won't forget the next time you stop in!   Willa's knowledge, passion and love for this industry have allowed Herteen & Stocker to be a staple in downtown Iowa City for over 65 years.
Tim Dickens- Owner (45+ years at Herteen & Stocker)
Tim Dickens is a second-generation owner of Herteen & Stocker Jewelers. As a Graduate Gemologist, both his learned skills and innate talent is put to use daily as Herteen & Stocker's resident bench jeweler. He is extremely creative, patient and skilled when creating, setting or fixing any piece of jewelry or custom design idea brought to him.
Terry Dickens- Owner (45+ years at Herteen & Stocker)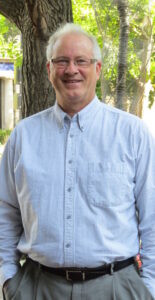 Terry Dickens is a second generation owner at Herteen & Stocker Jewelers. Terry handles all of the day-to-day operations of the store, from accounting to inventory control to human resource manager, Terry wears many hats. Terry is also very active in both the jewelry industry and the community. For the past 18 years, Terry has served as the President of the Retail Jewelers Organization's Board of Directors, an 800 Store Buying Group. He has also served on the Iowa City Council for the past seven years. Terry has the people skills, the smarts and the personality to make you feel right at home when you shop at Herteen & Stocker.
Kate Dickens Long – Sales (10+ years at Herteen & Stocker)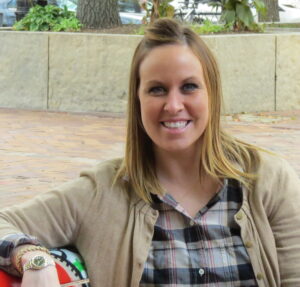 Kate Dickens Long is the third generation of the Dickens family working at Herteen & Stocker Jewelers. Following in her father Terry's footsteps, she has the passion and drive to continue the family tradition and make Herteen & Stocker your trusted jewelry store for years to come. She is a member of the Retail Jewelers Organization's Next Generation Board and has graduated from the GIA Diamond Grading course. With a design degree from Chicago's Harrington Institute of Design, Kate's background gives her the opportunity to design window displays, showcases, marketing material and the website. Kate strives to help all who walk in the door leave with the perfect gift for any occasion.
Lisa Kober- Sales (25+ years at Herteen & Stocker)
Lisa Kober is often referred to as family; with her dedication to Herteen & Stocker for over twenty years, people just assume she's one of the Dickens'. Her professionalism, patience, and expertise in the industry make her an invaluable member of the Herteen & Stocker team. Lisa works very closely with our custom jeweler and is the go-to source for custom orders. Lisa's meticulous attention to detail ensures your custom designs are beautifully created, just as you imagined. Lisa, as a graduate of the GIA diamond grading course, works alongside our diamond dealers to buy our loose diamonds – ensuring we can provide you the best diamonds at the best value.
Luetta Greene / Bench Jeweler (16+ years at Herteen & Stocker)
Luetta Greene is a graduate gemologist and works as our bench jeweler. Luetta studied jewelry repair, stone setting and jewelry design at Paris Junior College in Paris, Texas. Luetta has an inherent talent in working with customers, explaining the process of a repair and/or how a new piece will be created. When leaving a piece of jewelry with Luetta, you can be assured it is in good hands. Your piece of jewelry will be handled with care and treated as if it were her own. Luetta's talent at the bench makes her an integral member of Herteen & Stocker team.
Cassidy Bergeon- Sales / Bench Jeweler (4+ years at Herteen & Stocker)
Cassidy has worked in retail since she was 16, and has gained a knack for customer service and an eye for good design, which you can thank her Grandfather for, who is a professional stained glass artist. She will sure make you feel right home the moment you step inside Herteen & Stocker.  Cassidy has been around jewelry and glass making for most of her life, she's even tried a little glass bead making once or twice. In previous retail positions, she has had the opportunity to work with jewelry, watches, and accessories so her knowledge of the industry is very impressive.
Summer Kopet – Sales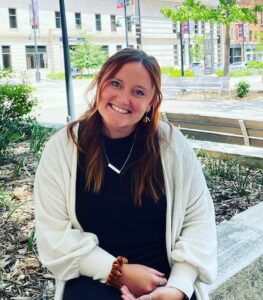 Summer is the newest full time member of Herteen and Stocker Jewelers.  She is a graduate from the University of Iowa with a double major in Communication Studies and Human Relations, with a minor in Spanish. Summer has an exquisite eye for beauty as she is also a photographer (in her spare time). Be looking and checking out our social media pages for her photography work!  She will greet you with her infectious smile, patience, and a strive for excellence to find you the perfect piece.   Summer is excited to continue her already impressive education now in the jewelry industry.
Kristin Fletcher- Part Time Sales (13+ years at Herteen & Stocker)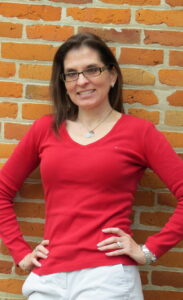 Kristin started working at Herteen & Stocker in 1995, when she was hired strictly as holiday help. We never let her go. We knew right away she had a knack for jewelry sales, a sense of dedication to the customer and an eye for wedding and bridal lines. After a six-week maternity leave turned into a six-year leave, we welcomed Kristin back with open arms in 2013. Kristin is a natural organizer and has the magical ability to keep every one of our thousands of engagement rings in exactly the right place. Kristin just shines when you get the opportunity to work with her.